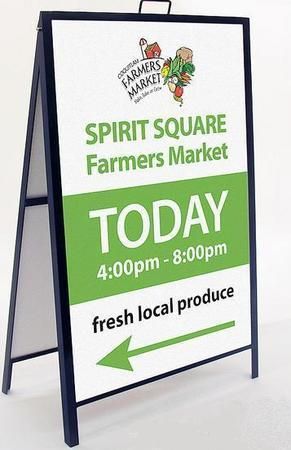 Sandwich Boards consist of two weatherproof coroplast boards that are hinged at the top and stand upright with your advertising message displayed on both sides. Ideal for announcing events such as open houses, sales and promotions
Our Sandwich Boards:
Metal A Frame sandwich boards consist of a metal stand and 2 separate coroplast inserts. This option gives you the added flexibility of changing the advertising message periodically, without replacing the entire frame. Once you are ready for a new promotion, simply pull out the existing boards and slip in the new ones. This is a cost effective solution to always keep your message fresh and new. Coroplast Sandwich board inserts are weather proof as well.
Sizes: Our Metal A Frame Sandwich Boards come in 3 sizes:
18'' x 24''
24'' x 32'' (*Most Popular)
32'' x 48''
Order: Message us today for your free quote, or call us at 905-946-0909
Quick Quote: Tell Us About Your Project to Receive Your Free Quote